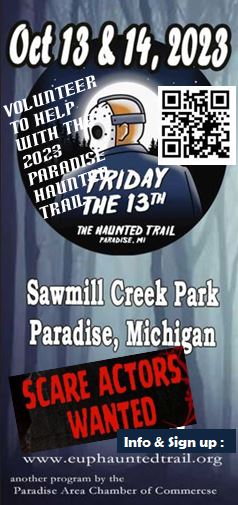 For THE Haunting Experience of Your Life
Sign Up to volunteer for the 2023 Haunted Trail Event Paradise, Michigan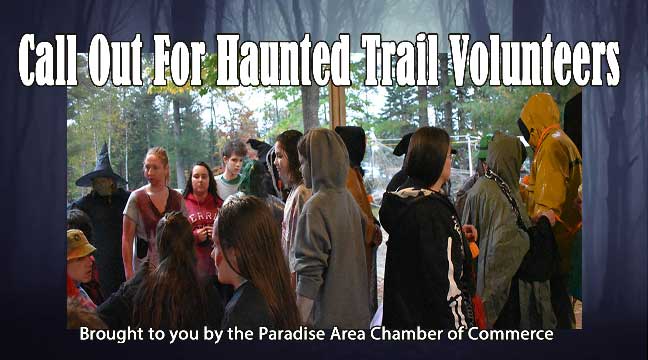 CALLING ALL VOLUNTEERS
Join in on the scary fun to volunteer and participate in The Haunted Trail for 2023!
Actors can come up with their own haunting idea, help with trail set up, or assist with one of the many themed sites through the forest (haunted cabin, circus clown tent maze, foggy swamp, etc.) on the nights of the trail.
** Note: The 1st Volunteer meeting will be held Sunday, Sept.17th @1 p.m. at Sawmill Creek Park. Come with your ideas, to pick out a site spot, and to begin to help with trail prep! See you Sunday afternoon!
If you can't make the first meeting, keep your eye on the The Haunted Trail facebook page for when the next meet up will be or sign up using the form below and you will be contacted soon!
Any other questions? Email hauntedtrailparadise@gmail.com
Copyright @ 2011 - 2023 Paradise Area Chamber of Commerce - All Rights Reserved. 09.13.2023


ABOUT | HOME | SPONSORS